DSM – aspirazioneeee … change of the intake tract, 5-6 HP more peak power and above all a much better speed pleasure and pressure in the lower and middle ranges. Above all, the torque is around 14Nm stronger in the lower range, 10Nm more is available in the entire speed range. Series production is currently starting. The first prototype has been installed and is running. To whet your appetite, take pictures of it, please note – the series parts are better processed. (Covers on the left and right are made of aluminum sheet in the series and have a plastic-coated structure) Price EUR 490 plus EUR 20 for the covers (as not everyone wants them)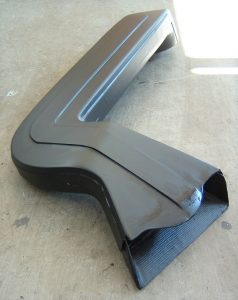 ———————————————————————————————————————–
Phase- indicator new spare- part  ( b-mo-0019 )    euro 298.-

————————————————————–

our latest version for the ignition coil covers – black silk matt structure …. simply an elegant look
——————————————————————————-
euro 35.- im tausch/ in exchange oder/or 78.- ohne altteil / without exchange
——————————————————————————————————————–
FRONT – BUMPER :
Now in production: front bumper made of high-quality GRP, made with woven mats and not with cheap splinter-friendly tiles. very high accuracy of fit and with an inner part as can be seen in the pictures.
there is also the option of ordering the front bumper with the naxos spoiler fully integrated.
also available naxos spoiler, very good workmanship – made with woven mats. for both with splinter report.
prices: bumper euro 795.- / bumper-naxos euro 930.- / spoiler euro 155.-

————————————————————————————————————–
Repair kit oil drain plug – thread:
Since in many vehicles the thread is damaged by incorrect handling, the kit can be used for repair and improvement:
The standard thread M18x 1.5 is enlarged to M20x 1.5. Thanks to the use of the fixed bush, there will no longer be any distortion of the drain plug.
Better tightness of the drain plug because the sealing surface for the seal is better.
b-mo-0058   euro 25.-
---
we have a small number of new front- logos:
euro 19.-
————————————————————————————————————
looking for more power goes on – Step Six !
first impressions under tune-up engine
Find also more news under tune-up design by dsm
_______________________________________________________________________
Better light for cockpit and center console  with  2 watts instead of original 1.2 watts
Set with 9 bulps  / b-licht-09 / Euro 14.-
_________________________________________________________________________Filler- Cap, lockable
Version closed with 90°
  B-Tank-01 /  Euro 34.-

Version with Screw
  B-Tank-02 / Euro 33.-
————————————————————————————————
One weak point less:
exhaust think rubber with additional nylon belt
  B-AUS-012   / Euro 7.-
—————————————————————————————————–
Complete Suspension – kits see at  tune-up chassis

---
Reinforced hood damper set
Soft top damper set for easier opening and closing of the soft top:
These dampers have 300 Nm tractive force – compared to 250 Nm of the standard dampers.

B-KAR-014  /Set price / 2 pieces – 72.- € /

---
Boot lid damper
Replacement for the dampers of the boot lid, which have become tired with many Barchettas in the meantime.
   62.- € / B-KAR-015
---
Battery disconnection
The simple solution to protect the battery from discharging leakage current during prolonged periods of inactivity. Once the work to connect the ground cable – then interrupt the contact by removing the knurled screw.
---
Permanent stop for drive shaft sleeves worn down.
The installation of silicone cuffs is recommended especially for lowered vehicles. On the one hand, the material offers more reserves and, on the other hand, the narrower bellows prevent mutual abrasion. Tested without problems in our own vehicles with up to approx. 25,000 km mileage …
  b-an-0003 / 21.- €
NEW – Kit complete driveshaftsleeves in- and outside
Inside silicone, outside high- quality ( incl. nuts – driveshafts )
    b-an-0015 / Euro 90.-
---
The following tube types are now available as silicone replicas:
Intake tube VIS / M2
    b-di-0013 / 75.- €
Radiator tube top
    b-küh-006 / 44.- €
Radiator tube bottom
  b-küh-0005 / 44.- €
Tube in front of airbox intake channel
     b-küh-008 / 75.- €
Even more parts:
---
For sale (and more …):
(For more information see category SALE:https://dsm-car-concept.de/gb/verkauf/)
---
---